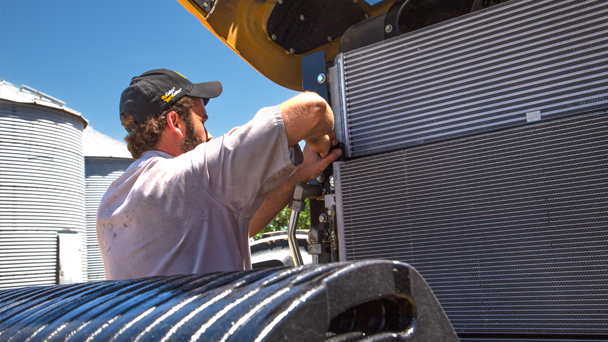 AGCO Service
No time for downtime
Every day, we work hard to support our customers.
We do so in many ways, especially through our AGCO Dealers who continuously invest in training, tools and support programs; keeping their technicians up to date with the technical knowledge and capabilities required to service the machines customers depend on.
Providing the high-tech tools needed to support our customers is part of our commitment to service. AGCO and its global network of dealers are continuously investing resources into state-of-the-art technical work tools that help deliver on our mission and our commitment to being true team players. Learn more about AGCO Parts and Service.
Find a Dealer
AGCO COMMITMENT TO PROVIDE MAINTENANCE, DIAGNOSTIC, AND REPAIR TOOLS TO END USERS IN US & CANADA
Learn more at http://www.R2RSolutions.org
AGCO, along with the Association of Equipment Manufacturers (AEM) and the Equipment Dealers Association (EDA), is dedicated to supporting farmers and their equipment needs. This includes the need to provide end users with information and tools to maintain, diagnose and repair their equipment.
Tech Connect Diagnostics (TCD) /Electronic Diagnostics Tools and Related Training
TCD is AGCO's means to meet end customers' needs in the US and Canada. TCD is a module in the AGCO Tech Connect suite that can be made available to customer end users to assist in maintaining, diagnosing and repairing their equipment.
TCD is a web-based application that is available as a rental package from an authorized dealer, in the US and Canada, who sells and services the particular brand being worked on. TCD provides electronic field diagnostic service tools, and training on how to use them. TCD will be available with the release of new model tractors and combines after January 1, 2021. Training material, including a quick-start guide and a comprehensive user guide, is embedded within TCD. In addition, users get electronic access to the equipment operator manual and service manual. Contact your local AGCO Dealer for more information.
Additional Resources Available from AGCO in US & Canada
Below is a list of additional resources provided by AGCO, in alignment with the Statement of Principles put forth by AEM & EDA, to provide maintenance, diagnostic, and repair tools to end users.